School District #71 (Comox Valley) is located on the east coast of Vancouver Island in the Province of British Columbia. We acknowledge that our community lies in the beautiful unceded and traditional territory of the K'ómoks First Nation who have been the caretakers of the land we live, work, and play on since time immemorial.
Our Indigenous Education Department team consists of 40+ staff who work alongside school-based staff to enhance educational services and outcomes for our 1600+ Indigenous students across our School District and throughout BC connected to our online school, North Island Distance Education School (NIDES). Our Indigenous students self identify as First Nation, Métis, or Inuit from all across Canada.
We strive to enhance services to our Indigenous students as well as supporting teachers, administrators and support staff in deepening their understanding of Indigenous cultures and world views by embedding these principles into the daily school experiences for all following the goals of our current Indigenous Education Enhancement Agreement;
Goal 1: Foster Indigenous students' sense of belonging, cultural identity, and self-esteem.
Goal 2: Foster academic success of all Indigenous students.
Goal 3: Foster awareness of First Nations, Metis, and Inuit culture /teachings with all students.
Goal 4: Foster Indigenous students' confidence in leadership.
This website is designed to gift knowledge to anyone seeking to explore and learn with us. Whoever you are and wherever you live we hope our passion project will assist you on your journey. We welcome feedback, comments, and suggestions to help improve and update our collective content.
Gilakas'la,
Bruce Carlos, District Principal – Indigenous Education
Honouring the Territory
We are honoured to live, learn, play and work on the unceded traditional territories of the K'ómoks First Nation.
Acknowledging territory is a way of honouring and showing respect for the group of people now known as the K'ómoks First Nation who have been living and working on this land from time immemorial. Useful tips and explanation of difference between a welcome and an acknowledgement.
Traditional Territory Map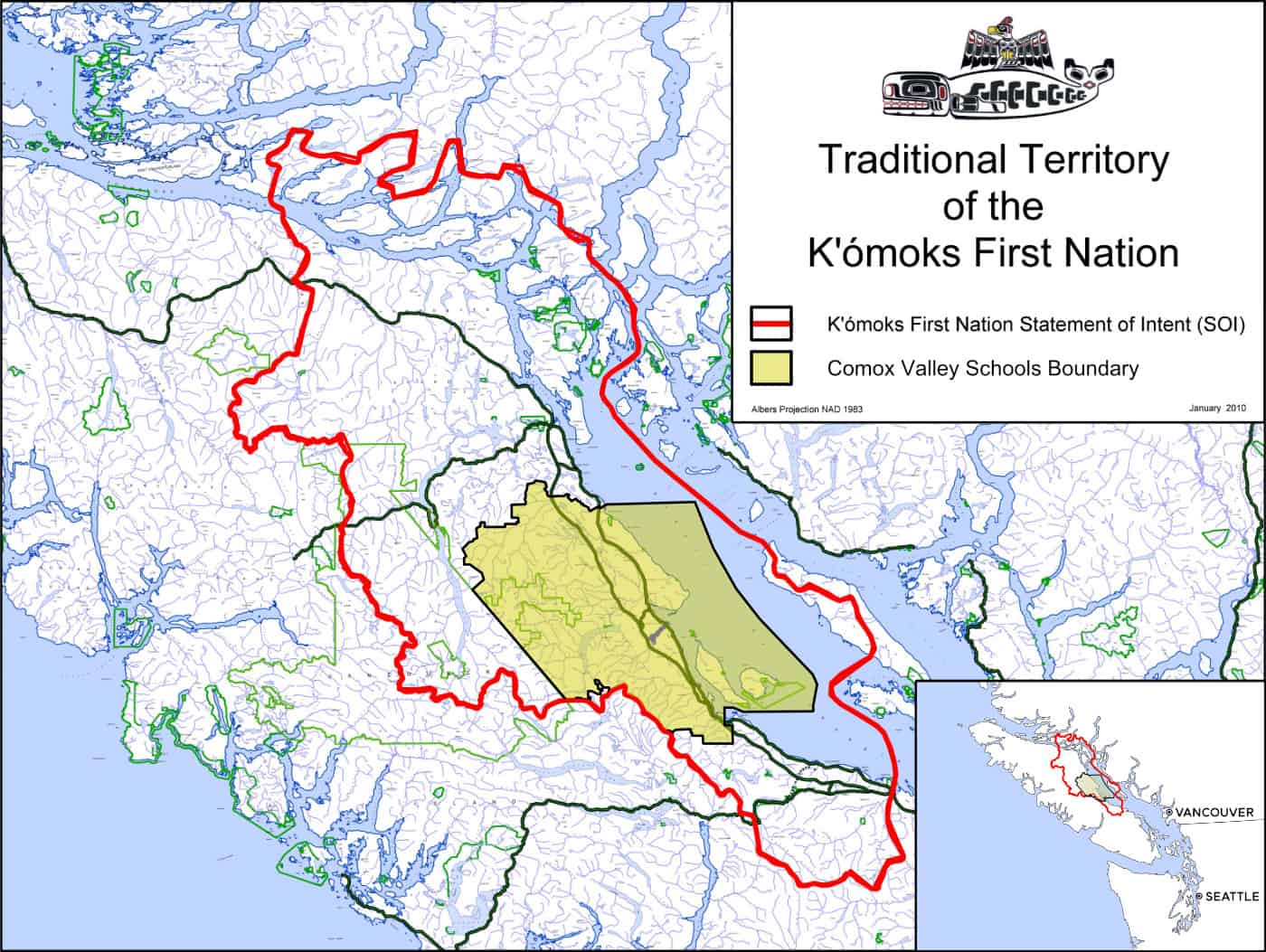 Language and History of the K'ómoks First Nation
"The K'ómoks First Nation is proud to be a part of two dominant cultures, Northern Coast Salish as well as Kwakwaka'wakw. Historically, our ancestors spoke Pentlatch or ayajusem (Island Comox dialect). They would also have been familiar with a number of neighbouring languages such as Kwak̓wala, given extensive trade and intermarriage. Their language use was complex, and evolved over time."
Read more about culture, language, and history.
***Indigenous Education – Comox Valley Schools respectfully requests that the artist/creator/author be acknowledged when using content from our website***