Acknowledging Traditional Territory
Acknowledging territory is a way of honouring and showing respect for the group of people now known as the K'ómoks First Nation who have been living and working on this land from time immemorial. Useful tips and explanation of difference between a welcome and an acknowledgement.
Native Land – click on this link to determine whose traditional territory you are on.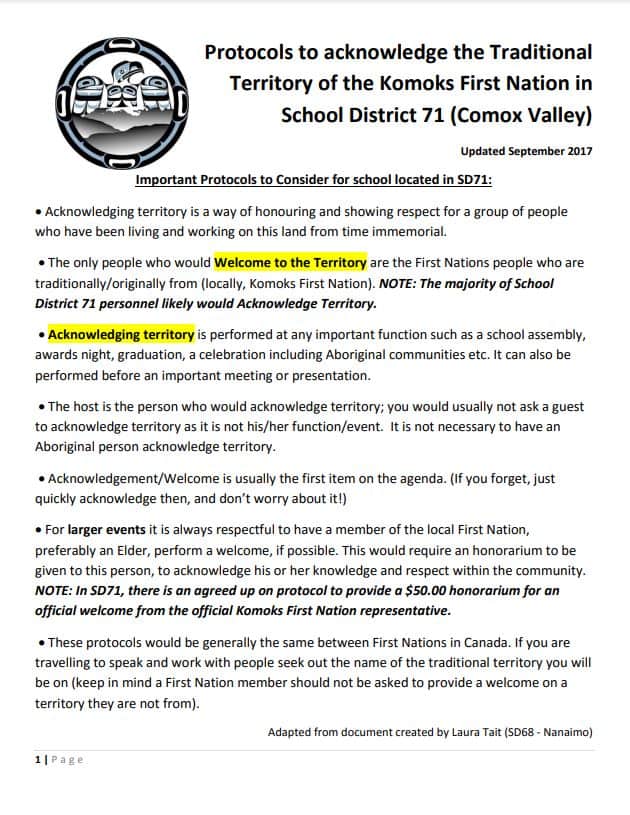 Acknowledging Traditional Territory – September 2017
Local Territory
K'ómoks​ First Nation -see website for more information and excerpt below
"For thousands of years indigenous people occupied the shoreline of eastern Vancouver Island in a place referred to as, "the land of plenty". This Land of Plenty stretched from what is known today as Kelsey Bay south to Hornby and Denman Island and included the watershed and estuary of the Puntledge River."
SET BC did a course on coordinating technology and First Peoples Principles of Learning and they have compiled great information: This course explores examples and strategies of ways teachers can use technology-based projects aligned with the First Peoples Principles of Learning to begin infusing a First People's perspective into their classroom environment and community.
"Learning is…focused on connectedness, on reciprocal relationships and a sense of place."
Acknowledging Territory (click on this title to access the course content)
In Canada today, many official gatherings now commence with an Aboriginal acknowledgment of the land as the traditional home of Canada's Indigenous people, who have occupied that land for generation…
Why is this acknowledgement happening?
How does this acknowledgement relate to the event or work you are doing?
What is the history of this territory?
What are the impacts of colonialism here?
What is your relationship to this territory?
How did you come to be here?
What intentions do you have to disrupt and dismantle colonialism beyond this territory acknowledgement?
– Native-Land.ca
From UBC: The Classroom Climate Series is a set of professional development workshops offered once a month through the academic year. Participants gain the skills and confidence to establish a productive and responsive classroom climate for working with Indigenous content and socially contentious issues in the classroom. The series also provides a space to share teaching and research practices and learn about engaging in conversations about place, power, and social location.
From UVIC: In this video, Esquimalt Elder Elmer George welcomes visitors to the traditional lands of the Songhees, Esquimalt and WSÁNEĆ people in Lekwungen and English, and UVic President Jamie Cassels gives a territory acknowledgement and talks about UVic's commitment to redressing historical and continued barriers facing Indigenous students