Hot Lunch
---
It is time to get the Hot Lunch Program up and running! If you wish to order hot lunch you must create an online account. The landing site is located here. On this page you will need to follow new account registration by selecting "Register here".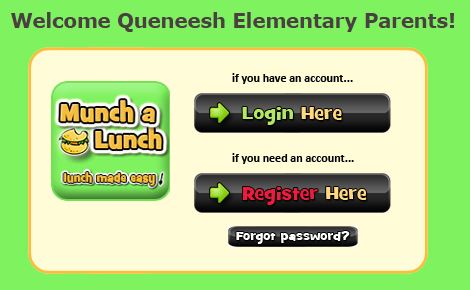 Hot lunch will be on Wednesdays. Late orders will not be accepted and payment must be received by the specified due date or order will be cancelled.
Payment:
Online hot lunch order payments are made by credit cards using Stripe (a payment processor) or by cash/cheque to your child's teacher. One cheque or cash can be sent with one child if you have more than one child. (Cheques payable to Queneesh PAC and cheques and cash must be labelled with student's name and teacher) .
The hot lunch online order system requires a small amount of setup time at the beginning as you must register each child you have attending our school prior to ordering hot lunch. Once the initial setup process is complete, your hot lunch orders for the remainder of the year should be quick and simple.
We will email during the school year, as well as post on the Queneesh PAC Facebook page with reminders for when ordering is closed.
Please email Lindsay if you have questions or concerns with set up, requests, helpful suggestions or would like to volunteer.
We appreciate your support of the hot lunch program. This is a fundraiser for PAC and money raised will go back to all of the students at Queneesh in various ways (some examples include field trips, swim lessons, presentations, lunch program etc).
Thank you,
Lindsay