Principal's Message
---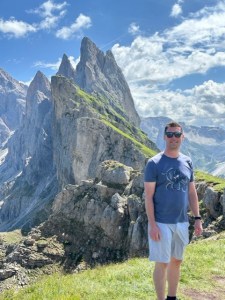 I am honoured and thrilled to be the Principal and lead learner at Lake Trail Community School (LTCS).  Together with our Vice Principal, Ms. Alissa Pratt, and our incredible team of support staff and teachers we welcome you to our school, where we WALK PROUD!
Middle school is a place where kids go on a tremendous journey of change.  At LTCS grade 6 students arrive fresh from getting a taste of leadership in their elementary schools and are brimming with enthusiasm for the freedoms of adolescence.  They see our forest and classrooms as places to challenge themselves and build friendships in this new freedom.  Over the 4 years they are at LTCS we get to watch students grow and learn.
Our first school goal is to create a safe place for them to discover who they are and how they belong.   Our Positive Behaviour Interventions and Support (PBIS) structure and PROUD matrix guide us in the journey.  Our amazing staff offers them opportunities to act, play, build, learn, and connect with their peers.
Our second goal involves using meaningful assessments to get to know them as learners and support each student journey from where they stand to what they want to become. We want to challenge each student at just the right level to continue to learn and grow.
Every student needs different supports and we strive to provide them. Our goal is to send each individual off at the end of grade 9 with the skills, habits, and mindset that will allow them success in high school and beyond.
We get four years with our students to help them navigate the journey of adolescence.  We celebrate the curves and bumps along the trail, look forward to the hard work and sweat it takes to climb the steep parts, and of course enjoy the view along the way!
Gila K'asla
Kyle Timms – Principal
Lake Trail Community School
phone: 250-334-3168
email: kyle.timms@sd71.bc.ca