Indigenous Education
---
The Indigenous Room is known as The Cultural Centre and is open to all students regardless of ancestry. We run the room with an indigenous focus and strive to make it a place of peace, kindness, and safety. Most of the activity programs we run here at Lake Trail are available to all students but we also provide several supports that follow the four goals of the Indigenous Education Enhancement Agreement. These supports are provided to enhance existing school programs for students of Indigenous ancestry. Ancestry is determined on a voluntary basis through self-identification and includes Status, Non-Status, Metis or Inuit ancestry.  
Our current activity program schedule includes "Indigenous Storytime" on Tuesdays at lunch, "Tea and Talk" on Thursdays at lunch, "Namwayut" (Indigenous Leadership) every other Friday and "Soup-A-Palooza" on opposite Fridays. We also offer a variety of activities on Friday X-Block including beading, drumming, lahal, and other cultural activities.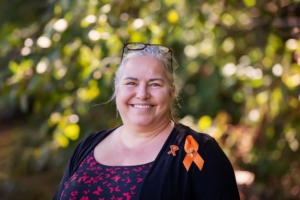 Words from Jenna 
"Fàilte!   
My name is Jenna Flint and I have been working with School District 71 since 2018. This is my second year as an Indigenous Support Worker at Lake Trail Community School, and I am excited to be back and working in our beautiful new space.   
My family came to Turtle Island from Scotland many generations ago and settled first in the Niagara region before organizing one of Canada's most successful overland expeditions to the west coast. We have lived on Vancouver Island for 6 generations and consider this beautiful place to be our home.  
I have been working and living beside Indigenous people for as long as I can remember. I have 2 adopted siblings who are Cree, a son who is Salish and Kanaka Maoli (Indigenous Hawaiian) and 2 grandchildren who are Salish and Muskogee (Creek).  
I am looking forward to working with your children and getting to know your families.   
Tapadh leat"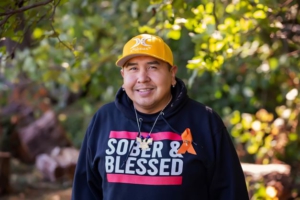 Words from David  
 "Gilakas'la, nugwa' am Cux'w'ca'ah, Gayutlin'lax Musgamagw Dzawada'enuxw.  
My given name is David Dawson, one of my traditional names is Cuw'w'ah'ah, which means "Giving Amongst My People." I was born and raised in the beautiful territories of the Pentlatch, E' Iksan, Sahloot, and Sasitla people, now known as the Komoks First Nation. However, I come from the Musgamagw Dzawada'enuxw of Kingcome Inlet. I am very grateful to be a part of such a rich culture that displays great respect, love and connectedness through storytelling, songs, and dances. I am part of two different traditional dance groups. I have been on a healing journey for the past seven years. Within this healing journey I have completed a Education Assistant/Community Support Certificate as well as a Human Services Diploma. In 2017/18 I worked at Comox Valley Recovery Center as a Peer Counsellor, and 2018/19 as a Ninoxola, (Knowledgeable One), under the Elders in Residence Program at Puntledge Elementary, and 2019 to present as an Indigenous Support Worker at Lake Trail Community School and Nala'atsi Alternate school. With this I bring the gift of experience, strength, and hope. With that being said, I look forward to another year walking along side, supporting, and guiding our young warriors as best as I can throughout their time here at Lake Trail Community Middle School." 
Please feel free to contact us at any time if you feel there is anything we can do to support your child(ren). Jenna is available for contact Monday to Friday during school hours and David is available on Tuesday, Wednesday and Friday. We can be reached by phone at 250-334-3168, or via email at: 
Jenna: jennifer.flint@sd71.bc.ca                 
David: dave.dawson@sd71.bc.ca     

Community Resources:
---
B.C. First Nations Textbook
More Indigenous Links