Seasons
---
Seasonal Changes in the Comox Valley from Project Watershed
Click here for connection to seasonal changes video n the Comox Valley and here for more educational lessons and resources from Project Watershed.
Here is an example: The fall video, "I Feel Like Gold" Autumn in the Comox Valley from Island Soul Films.
My Seasonal Round Resource​
This unit illustrates the integration of Social Studies and Science. The seasonal round was chosen as a theme for this unit because it lends itself well to integrating the topics of BC First Nations study in Social Studies, and habitat in Science.
A seasonal round: also known as the annual round … refers to the pattern of movement from one resource-gathering area to another in a cycle that was followed each year. Spring, summer and fall saw the people moving to a variety of resource areas while during the harsher winter they gathered in winter villages. The abundance of resources also determined how often people moved. In areas that had a greater abundance of variety, people could stay in one location for longer than in areas where resources were scarcer. Campbell, Kenneth, Charles Menzies, and Brent Peacock. B.C. First Nations Studies. BC Ministry of Education, 2003, page 25
​The topic of the resource is the seasonal rounds in the four geographic regions of BC, through the perspective of Aboriginal groups (past and present) who live in these regions. Topics that will be explored include:
habitat
natural resources
stability and change
living and non-living components of habitats
Ojibwe Four Seasons Video Series – found in SD71 LRC ​
An excellent series of 4 videos of about 9 minutes each that is combination of a ​historical re-enactment and the connection to modern day seasonal activities.
Ojibwe Fours Seasons Website – Lessons, resources, more information
We did find the videos online:
Ojibwe Four Seasons Video Review
Stories from the Seventh Fire Video Series – found in SD71 LRC Winter/Spring and Summer/Fall​
"This series is the superb achievement of a unique and powerful collaboration. Gifted Native North American artists, animators, storytellers, actors and filmmakers have lovingly produced these animated legends for our new era, for all to share. World-renowned Ojibway artist Norval Morrisseau's paintings come alive with beautiful animations of Wesakechack, and the legends are narrated by actor and storyteller Tantoo Cardinal.​"
DVD 1: Spring – The First Spring Flood; Legend of the Giant Beaver
DVD 2: Summer – How Wesakechak Got His Name; Legend of the Caribou
DVD 3: Autumn – Wesakechak and the Medicine ; Legend of the First Thanksgiving
DVD 4: Winter – Why the Rabbit Turns White; Legend of the Spirit Bear
Aboriginal Calendars – Moons and the Seasonal Round
Saanich Year – ​calendar based on the the 13 moons of the Saanich people. The year follows the cycles of the moon and the connection to nature and resources availalbe in that area at that time.
"Aboriginal calendars are lunar calendars that are logical in a culture in which people are acute observers of nature. The preciseness of keeping track of important yearly events does not rest on an accurate lunar calendar, but with the people's acute observations and rich knowledge of nature. An Aboriginal calendar does not need to be precise, just good enough for reasonable communication." — from guide.
This website has some lessons, pictures and resources for you to use : 13 Moons of the WSANEC (Saanich people) .
The book is no longer in print and we have been given permission to reproduce the book. In SD71, you can find the book in our LRC, search for: Aboriginal Moons.
Or we have put it in a powerpoint.
The Saanich Year
The Saanich Year Book
Primary Moon/Seasons Lessons – locally developed in SD71
Melissa Litke adapted the moon lesson for Kindergarten using the Saanich Moon cards:
Handouts: Connection Sheet
Lets Connect Primary Moon Handout
Other Moon/Seasonal Round Books:
Thirteen Moons on Turtles Back and Maple Moon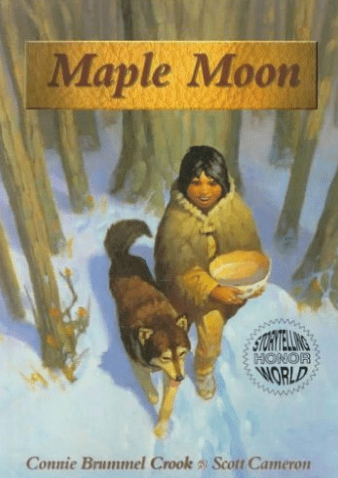 Lunar Calendars across North America:
See the following document for Moon Names in a variety of Indigenous cultures. You can get an idea of how widespread the seasonal round is and how the connection to land and resources was paramount.
A Season's Unit Outline – rough notes
Look here for an example of how you can use some of the above resources in a unit. Originally meant for grade 1 but can be used at any level.
Solomon's Tree – a connection lesson using Adrienne Gear's Power of Reading

Seasonal Activity Lesson
Grade​: 2-3
Lesson P​​lan:
​Blackline Mas​​ters
BLM's of Signs of…Spring, Winter, Summer and Fall:
Using all your senses record certain plants and places that you visit in the various seasons.
Mouse Celebrates Winter Solstice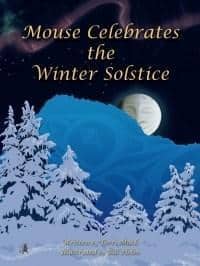 Lesson Description: In this lesson, students gain an awareness of the importance of Winter Solstice to Aboriginal people by reading the picture book, Mouse Celebrates the Winter Solstice, by Terri Mack and participating in a connection reading strategy focus.. Students can also paint or draw their visualization.
Grade: targeted K-3, but could be used for older grades too.
Lesson Plan:
Supplementary Activities
Taan's Moons – Found in all SD71 libraries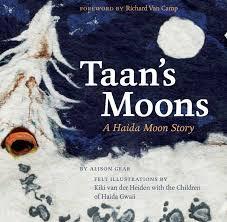 Taan's Moons from ArtStarts in Schools on Vimeo.
Great Bear Sea Rainforest
The Exploring the Great Bear Sea Elementary, Secondary and Post-Secondary Curriculum Resources are based on the film The Great Bear Sea: Reflecting on the Past, Planning for the Future by Green Fire Productions, and can be used to engage students in an inquiry-based, educational journey through the Great Bear Sea exploring a variety of themes such as Indigenous Knowledge, collaborative science, marine planning, biodiversity, sustainable resource management and marine stewardship. Students explore the importance of this region of BC – and our connection to both land and sea – through place-based stories, traditions and histories, bringing a diversity of First Peoples' perspectives from this region into the classroom.