Elementary Athletics
---
Welcome to the new site for all things Elementary Athletics for Comox Valley Schools.  This is the place to find all the current information like schedules, locations and times and much much more.  Please check for news updates and announcements.
IMPORTANT UPDATE:
We've had a great Volleyball season which we will now officially call over.  Trying to push the original schedule forward has been met with complications as schools have pre-existing commitments.
We look forward to a great basketball season
Please click on the icon below to go to the Volleyball site for schedules and information about spectators.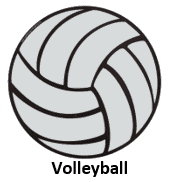 Sport
Format
Dates
Locations
Coordinator(s)
Cross Country
Runs for Grade 4-7 in the fall and hopefully 2-7 in the spring, set up at the schools listed. 
April 13
Brooklyn
Mireille Appelbe
April 20
Cumberland
Erica Black
April 27
Ecole au Coeur de L'ilie
TBD
Basketball
Each school can submit 2 teams, with boys and girls separate. Coordinators will put a call out for teams 2-3 weeks before and set a firm deadline to register a team.
Jan 26
To be determined
Kate Berg (6-7)

Stephane Leblanc (5)

Feb 2
Feb 9
Feb 16
Feb 23
Track and Field Jamborees
4 days of jamborees, all students in grade 4-7 come and participate in any events they choose
Week of May 3
Vanier Track
Noah Burdett
District Track Meet
1-day event for all schools, bring 2 athletes for each event.
May 17   (backup May 24)
Vanier Track
Noah Burdett
Ultimate
Each school can submit 2 teams, either co-d or split. Coordinators will put a call out for teams 2-3 weeks before and set a firm deadline to register a team.
May 25
To be determined
Stephane Leblanc
June 1
June 8
If you have any questions about this site, contact Mr. Burdett at Puntledge Park 250-334-4495 or email Noah Burdett