Highland Major Senior Student Awards
---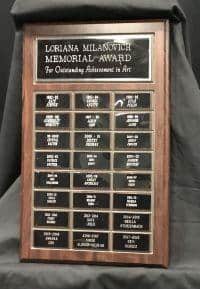 Loriana Milanovich Memorial Award
Loriana Milanovich was an up and coming artist at Highland who never had the opportunity to realize her full potential. The recipient of this award is Grade 12 Art Careers student who goes above and beyond to show outstanding effort, enthusiasm and leadership in the art department. In addition, this student consistently displays a positive attitude and continued interest in developing their skills in the visual arts. This student embraces creative risk and has a natural passion for both the quirky and the aesthetic.
---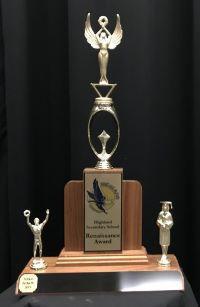 Renaissance Award
The Renaissance Award recognizes a student's broad and interdisciplinary learning in Mathematics, Science, Humanities and the Arts. The recipient has a deep and keen interest in exploring ideas and acquiring knowledge in many fields of study.
---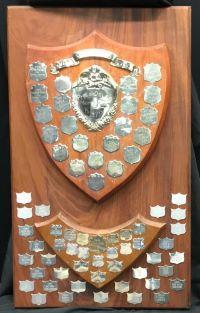 Osler Shield Award
The premier award given to a graduating Comox student since 1938. This honour is presented to a Highland student based on their contributions to the school during their final year at Highland. The award is presented to an individual who has demonstrated all-around excellence in Academics, Service and either Athletics or Fine Arts. The service, athletics and fine arts components that are evaluated for this award must be activities associated with the school.
---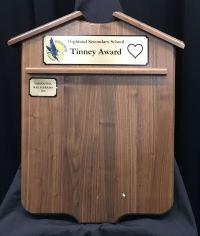 The Tinney Award
(Highland's Quiet Hero Award)
This award is given to the Highland graduate who has inspired others to be a better person through their hard work and selflessness. Kindness and respect are a way of life to this individual. This recipient does not hesitate to do overlooked jobs that need to be done to build and shape our school community. This person gives generously of themselves with no expectation of reward or recognition. These are the people that change the world through love and acceptance.
---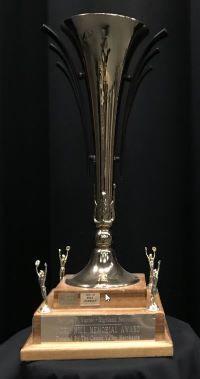 The Norm Hill Raider Award
This award is given to the athlete that best exhibits grit and determination, or "blood and guts" in their sport. This student has a high level of commitment and skill, but more importantly, stands out from others in terms of his or her intensity and hard work in both practice and game situations. The recipient maximizes their contribution to the team through sheer effort. This person should be amongst the top athletes evaluated on their team. Consideration is given to senior athletes, but participants at every level may be considered for this award.
---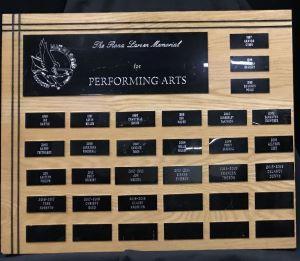 Rona Larsen Performing Arts Award
This award is given to a Grade 12 student who has demonstrated excellence in both Drama and Music. The recipient's dedication and true passion for bringing the joy of performing to the audience is evident in their unwavering commitment to both art forms.
---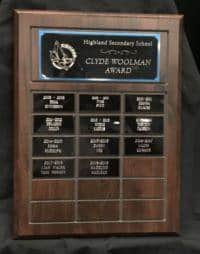 Clyde Woolman Award
This award is given to a student who has displayed excellence in both Athletics and the Fine Arts at Highland in their Grade 12 year at Highland. As a student athlete, the recipient will have demonstrated a high degree of leadership, sportsmanship, and athletic prowess. As a Fine Arts student, the recipient will have displayed a passion and commitment to the Fine Arts which is reflected in the skill level that they bring to the discipline. Selected by the major award selection committee, after the Osler Shield meeting.
---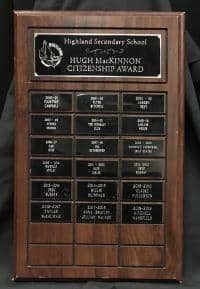 Hugh MacKinnon Citizenship Award
This senior award recognizes an outstanding contribution to the well being of our school and larger community. The recipient displays integrity, respect, compassion, leadership, selflessness, and an admirable commitment to public service and voluntary endeavour.
---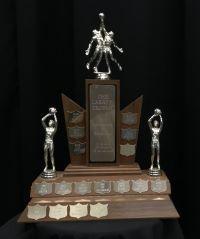 The Larry Peterson Trophy for Leadership in Basketball
(On/Off court and in Class)
This award is presented to a student athlete who demonstrates dedication and good sportsmanship in basketball. The recipient will also exemplify citizenship in the school and community. A strong effort and positive attitude in the classroom is also a requirement. This award will be determined by consultation between the Senior Coaches and the Athletics Director, with other staff member input if/as required.
---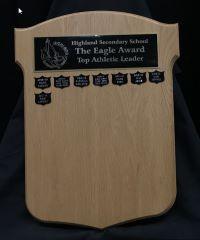 The Eagle Award for Athletic Leadership
This award is given to the senior student who best represents Highland Secondary on the field/court and off. They consistently display exemplary sportsmanship and respect and model this behavior for their teammates. The recipient of this award provides exceptional leadership for their team in addition to being one of the top performers in their sport(s). This award is chosen through coach's nomination. In the case of multiple nominations, a meeting of the coaches will be required.