G.P Vanier Secondary wrestler brings home double gold at nationals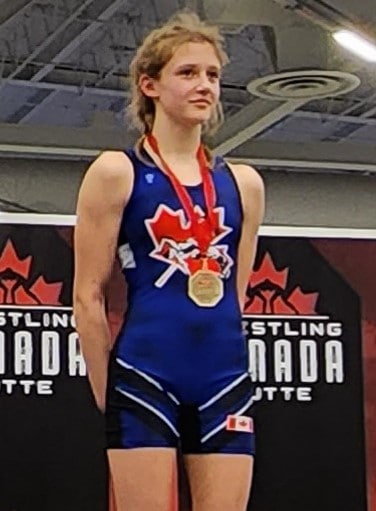 Comox Valley student Unya Hollmayer, a sixteen-year-old in grade eleven at G.P. Vanier Secondary and Captain of the Comox Valley Wresting Club, has brought home double gold at the Canadian Wrestling Championships. The gold medal victories capped a truly remarkable undefeated season for Hollmayer.
Hollmayer was named captain at the beginning of the wrestling season in October. She runs the team through warm-ups and cool-downs and has earned the respect of her teammates. She often helps less experienced wrestlers on her team with practicing their skills and technics, and makes everyone feel part of the team.
Hollmayer was able to soak in the teachings of new head coach Ben Stehura and coach Dan Mckee and improved her technical wrestling skills greatly within a few months of the start of the season. "Unya sets the example of commitment in the way she trains, the way she continues to learn and, in her perseverance," said coach Mckee. "Despite injuries, Unya never missed a practice and was on the mat helping other wrestlers develop their skills. She is always the hardest working person on the matt, and the results are revealed in her technical superiority in every match she has had this year."
Leading her team by example, she won the first tournament of the year in Duncan. But right before the second tournament in Nanaimo, Hollmayer sprained her ankle in practice and could not compete. She then had to miss the third tournament in Campbell River while she was receiving physio and chiro treatments. Despite her injury, she attended all practices and matches to encourage her teammates.
With proper medical taping, Hollmayer competed in the fourth event of the season at the Port Alberni Invitational Tournament and was able win first place as she continued her recovery. Hollmayer was feeling stronger by the Vancouver Island Championships and went undefeated while winning her division.
At the BC Provincials, Hollmayer won her first three matches to get into the finals. While she cruised through her first few matches, it wasn't until the finals when she faced adversity for the first time in her season. Prior to that, she hasn't conceded a single point against her all year. Hollmayer was trailing 5-2 in the final match, but with 13 seconds left, showed her true character and came back from behind to pin her opponent for the victory. Hollmayer's team had stayed in Vancouver an extra day to support their captain and were boisterous with their support – and they exploded with cheers when she won. It was truly a great moment for her and the Comox Valley Wrestling Club.
Hollmayer's win at the provincials qualified her for the Canadian Wrestling Championships in Vancouver.
However, she had sustained a new shoulder injury in the provincial final and was still nursing her previous ankle injury with only five weeks to get ready for the national games. Physio and chiro helped immensely with the recovery. Unya trained vigorously with her coaches Ben Stehura, Nick Zuback and worked on her cardio with Colin Francis and Zoltan Kuller. Also, coach Vasile Stefan gave Hollmayer Greco-Roman wrestling style lessons so she could compete in two disciplines at the nationals.
Hollmayer's first three matches at the national tournament went flawlessly, and even as she competed against some of the best wrestlers in the country, she didn't concede a single point. In the finals, she squared off against an experienced opponent from Edmonton and was leading 8-4 when she re-injured her shoulder. But when action resumed, she applied steady pressure on her opponent by using her technical superiority and was able to win her first national gold title.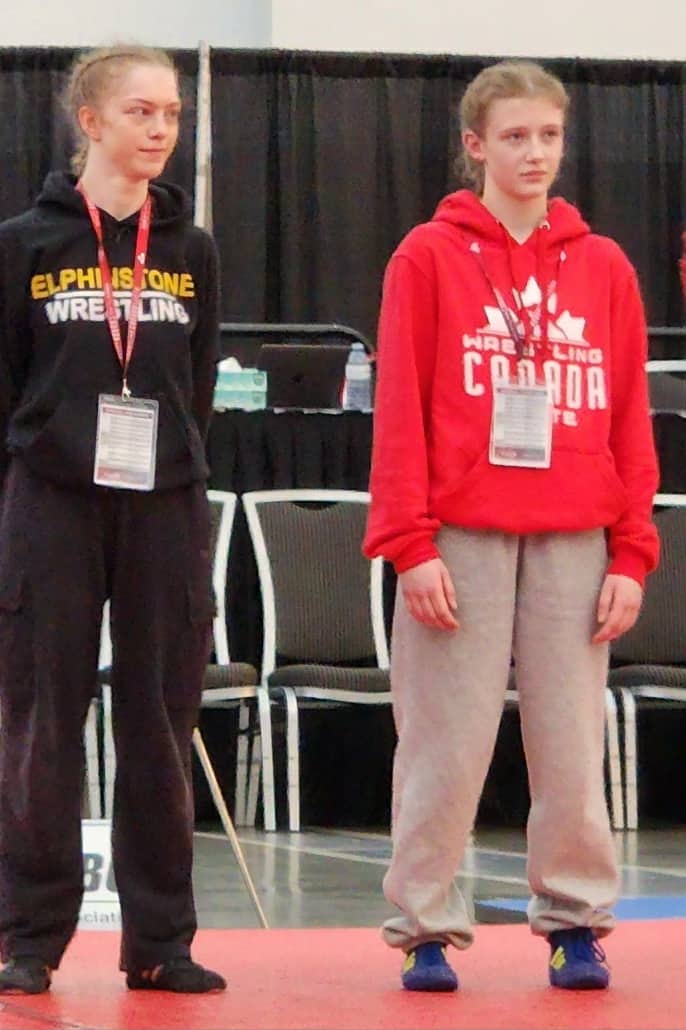 There wasn't much time to celebrate her victory because the following day she was competing for the national U19 Greco-Roman Wrestling title. Once again, it came down to an exciting final match and despite being in trouble at some points, she dug deep, and earned her second gold medal at the nationals in two days. The two national gold medals are the cherry on top of a stellar year of undefeated wrestling.
Hollmayer will be leading the Comox Valley Wrestling Team again next year for the wrestling season. She's a great example for other young local wrestlers, including her 11-year old sister Inga who is following Unya's footsteps by winning all her matches so far in four tournaments.
Congratulations to Unya Hollmayer, her teammates and coaches for an outstanding season of wrestling.
Note: This article includes information and written contributions from Unya's Father Raul, many thanks!
https://www.comoxvalleyschools.ca/wp-content/uploads/2023/04/Unya-Podium-1.jpg
511
376
csorochan
/wp-content/uploads/2020/05/SD71_logo_2-300x209.png
csorochan
2023-04-05 09:05:28
2023-04-05 09:08:03
G.P Vanier Secondary wrestler brings home double gold at nationals