Comox Valley Schools celebrate Pride Month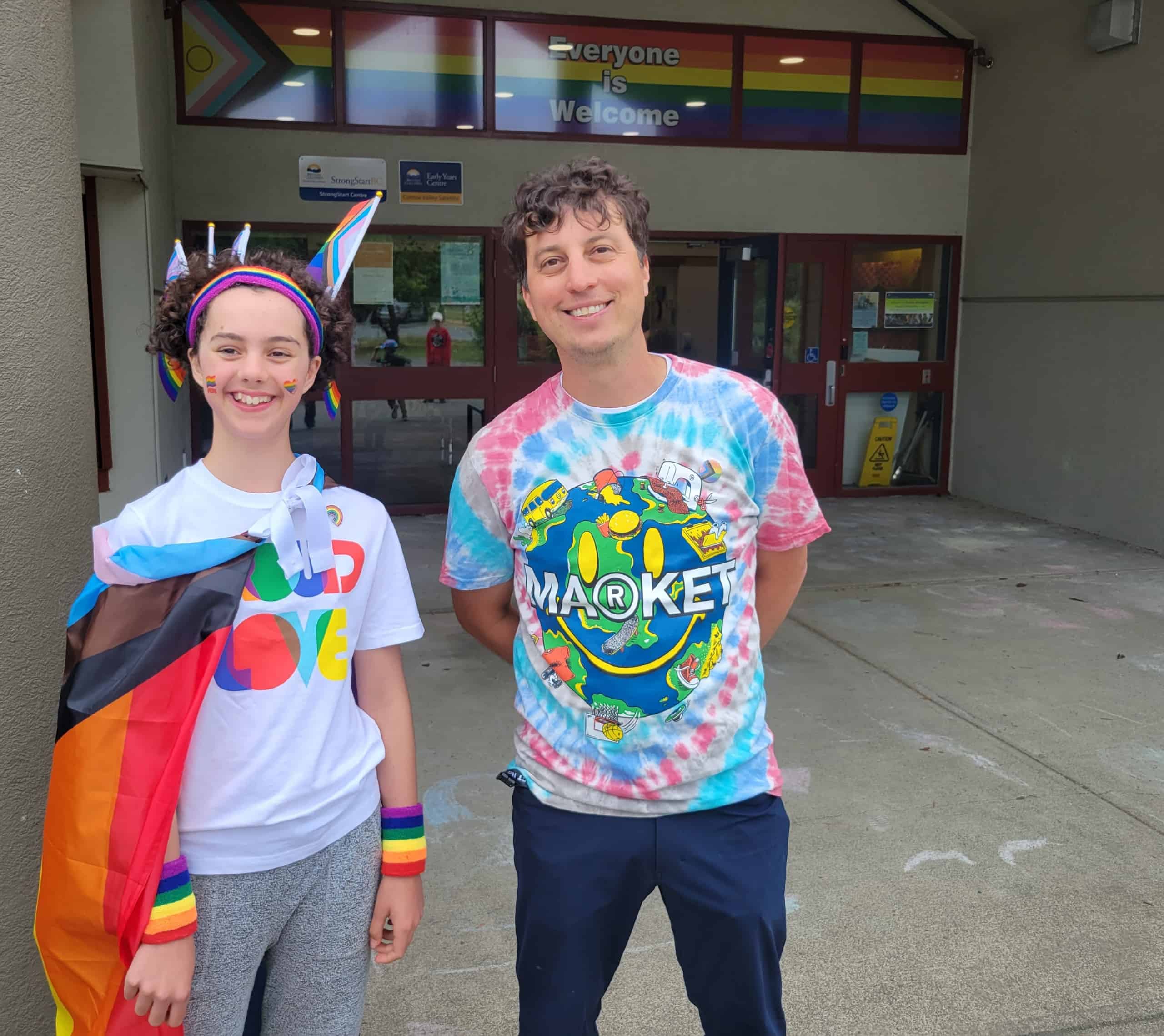 Comox Valley Schools have been partaking on a month-long journey in celebration of Pride Month. Pride Month in SD 71 involves a variety of activities and in school initiatives aimed at promoting diversity, inclusion, and acceptance of everyone who volunteers, works, and attends Comox Valley Schools.  Regardless of month, all Comox Valley Schools must be spaces that are safe, acceptable, respectful, and welcoming for all students, regardless of their sexual orientation, gender identity, race, religion, or background.
Highland Secondary kicked off the month with a vibrant display of rainbow gear and flag colors worn by students and staff. A welcoming gesture of cookies and stickers was extended to the school community in the front foyer. A lunchtime Pride flag raising ceremony saw students pledging against homophobia and transphobia, their signatures bearing testament to their commitment on a banner in the school's front foyer. The school's Queers & Allies Club (QSA) curated a special video for advisory classes, demonstrating the history of Pride Month. To further support the cause, the Queer Straight Alliance developed Pride 2023 totes and t-shirts, available as a fundraiser for the group.
Miracle Beach Elementary took an academic approach to Pride Month, setting up a display in the library, complete with a Pride curated book collection. The staff and a group of students worked to promote inclusive language within classes, offering an informational sheet to guide discussions.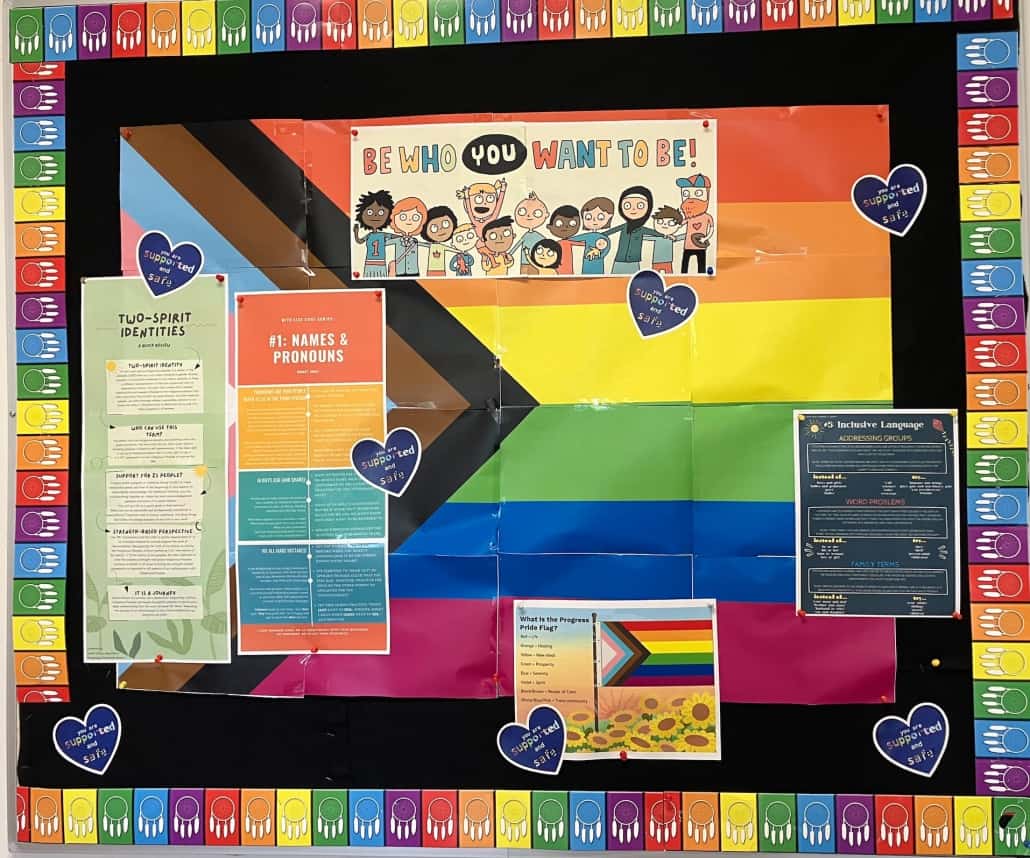 Meanwhile, at Ecole Robb Road Elementary, the Rainbow Alliance group had a pizza lunch celebration and Pride display in the library. The school's newly painted outdoor sensory path, partly designed by the Rainbow Alliance club and some of the Indigenous students, represents the school's commitment to inclusivity. The path was made possible by a generous donation from a parent and the Variety BC Schools program.
Despite a delay in their rainbow sidewalk painting due to a paint backorder, Mark R. Isfeld Secondary has an array of activities planned. Handmade buttons were distributed, and a bake sale was organized to raise funds for an LGBTQ2S+ cause. The school is also in the process of creating LGBTQ2S+ role model posters to put up around the school and working on an LGBTQ2S+ question and answer session.
Brooklyn Elementary School's Community Club created a bulletin board and planned a "Diversity Day" on June 23rd, combining fun activities with Pride celebrations. The students will paint inclusive messages on a large banner reading "Be who you want to be!" in block letters. The bulletin board in the front hall, designed by some grade 7s, aims to make Pride Month and their Diversity Day more visible.
At Queneesh Elementary, the Rainbow Alliance Club is working on a large inclusive art piece for the computer lab wall. Royston Elementary held their Rainbow Spirit Day — connected to the Pride theme of June. Principal Colegrave organized getting the Everyone is Welcome sign up in the main entrance up earlier this Spring.
Finally, GP Vanier Secondary had an action-packed Pride Week from June 5-9, featuring themed and spirit days, announcements, informational items, and posters. Activities included a silent auction for a Pride Basket, SOGI information discussions, and a "Personal Journey towards Empathy" email package for staff. The "Aspire to Action" trip to Victoria on June 21-22 is also a notable upcoming event – the program focusses on causes such as 2SLGBTQ+ rights and anti-racism. A table in GP Vanier cafeteria, manned by students from Aspire, provided Pride items and information for students, further spreading awareness and fostering a sense of community.
Each Comox Valley Schools' unique approach to celebrating Pride Month reflects the shared commitment to inclusivity, acceptance, and celebration of diversity across our school community. These initiatives are just a few of the many different events and activities happening for Pride Month throughout the district.
All individuals involved with Comox Valley Schools are expected to treat each other with dignity and respect – regardless of race, religion, family status, physical or mental abilities, gender identity, sexual orientation, or age. There is no room for discrimination in SD 71 schools.
https://www.comoxvalleyschools.ca/wp-content/uploads/2023/06/Royston-Pride3-scaled.jpg
2278
2560
csorochan
/wp-content/uploads/2020/05/SD71_logo_2-300x209.png
csorochan
2023-06-20 11:14:05
2023-06-20 11:14:05
Comox Valley Schools celebrate Pride Month