Schools celebrate National Indigenous Peoples Day with a week of activities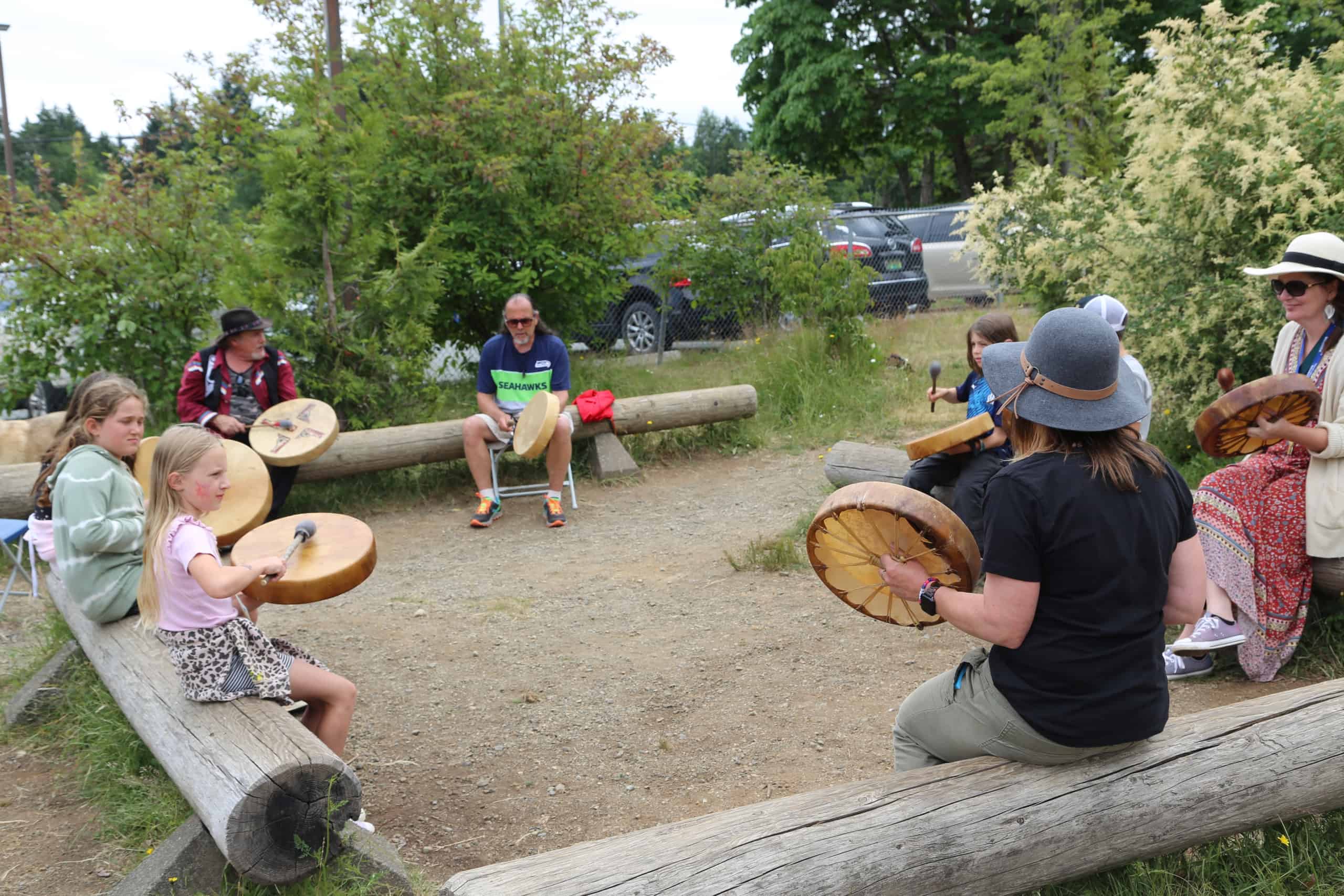 Comox Valley Schools marked National Indigenous Peoples Day with a week-long celebration of Indigenous culture, history, and contributions across its schools. The district's celebration of National Indigenous Peoples Day is a testament to the ongoing commitment to honouring and learning from the Indigenous communities that have shaped and continue to enrich our country.
The week began at Ecole Robb Road Elementary. The school is very fortunate to be receiving a whale log drum, carved by K'ómoks First Nation carver Randy Frank and gifted by parent/archeologist Jesse Morin.  An opening ceremony for the new whale log drum was held in the school gym and the entire school attended. Some of the esteemed guests at the ceremony included, Randy Frank, Hereditary Chief Stan Frank and Chief Ron Mitchell, family members, Auntie Mona (Ramona Johnson, Ni'noxsola at Robb Road), Jesse Morin and ISW Pauline Engisch. By the end of the assembly, almost the entire school was dancing to the sounds of the new drum.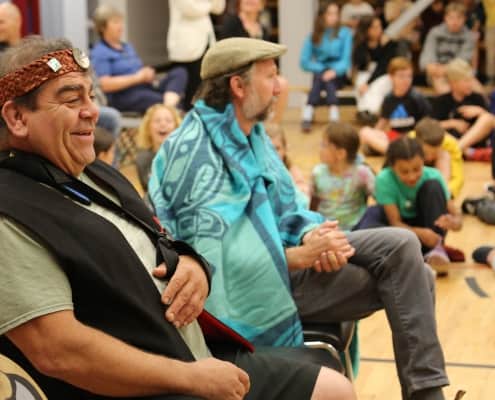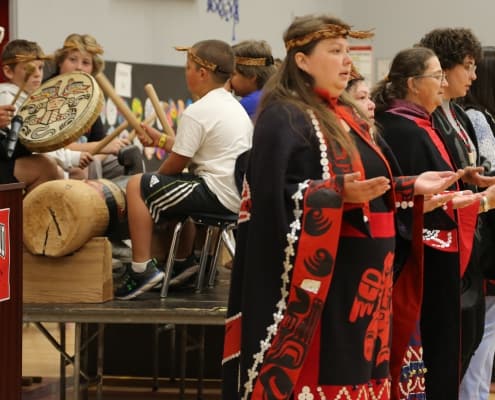 Ecole Puntledge Park Elementary celebrated the day by honouring Indigenous Support Worker Dean Quiring for his 25 years of service in Indigenous education. Comox Valley Schools is beyond grateful for Dean's service in our district as he makes an incredible difference in the lives of students! The event featured traditional powwow dancing, singing, drumming, and student speeches. The event was graced by Ray Thunderchild, a Cree from Saskatchewan, who served as the MC, singer, and drummer for the event. Once again, most of the school joined in for some dancing by the end of the assembly.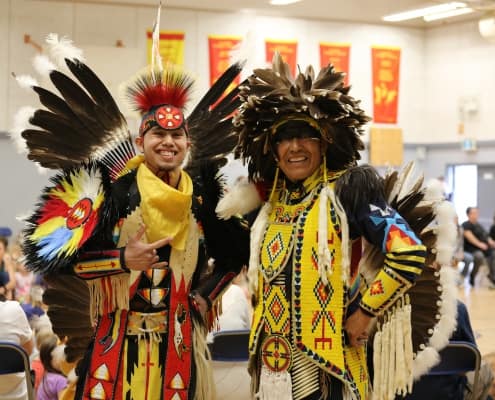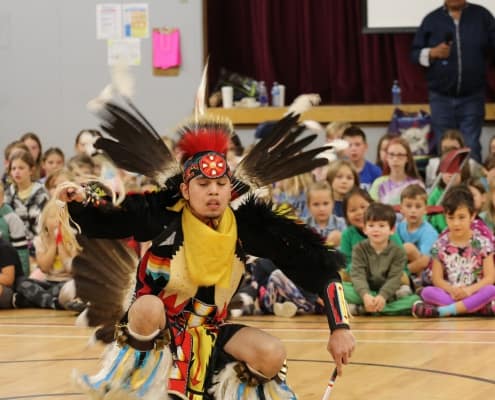 Cumberland Community School witnessed the raising of new totem poles at the Peace Park in Cumberland with many people from the community in attendance. This winter, the totems were located at Cumberland Community School for a period, and this allowed students to learn from Karver Everson and Junior Henderson as they worked on the beautiful totems. Comox Valley Schools is grateful for the teachings they shared with students and staff about some of the traditions behind creating these beautiful totems.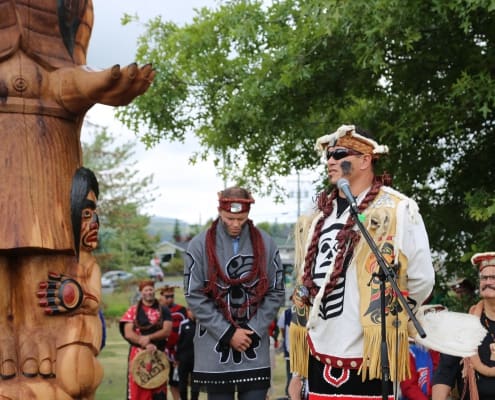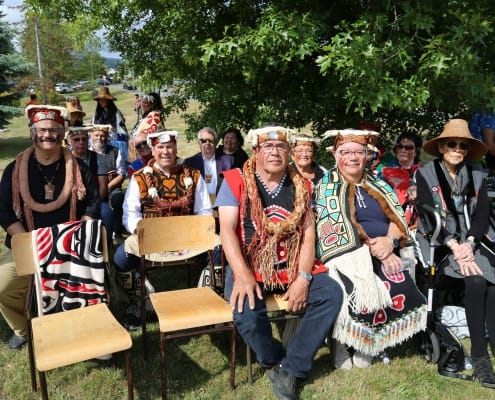 Valley View Elementary School showcased over 400 pieces of art under the theme "Our Sense of Place" and the display remained in place for the week in the school gymnasium. .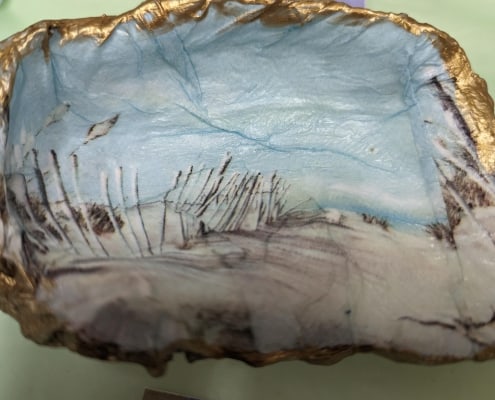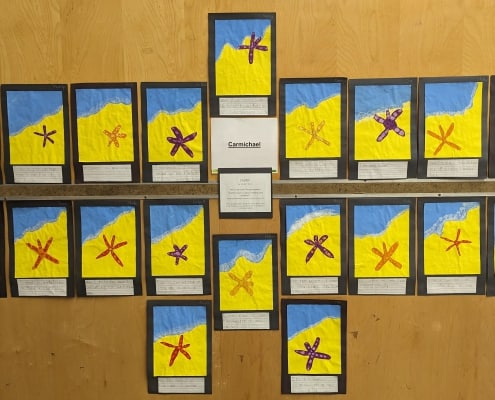 Huband Park Elementary School organized a student-led Indigenous games day. The school also arranged a story walk of Wab Kinew's book with multiple classes and served bannock. Students started each school day with a land acknowledgement. Queneesh Elementary organized a week-long celebration with activities ranging from art, oral storytelling, Indigenous sports, dance, and food. Brooklyn Elementary and Airport Elementary organized Indigenous games, while Miracle Beach Elementary held a school-wide event with various stations set up for students. Aspen Park Elementary celebrated the week with various activities, including creating window displays of local sea creatures and learning their Kwak'wala names.  Royston Elementary held a full day event with a welcoming assembly in the morning, and then kids circulated through a variety of Indigenous themed stations before enjoying a communal lunch outside Courtenay Elementary held a school wide assembly and a salmon BBQ for students and staff.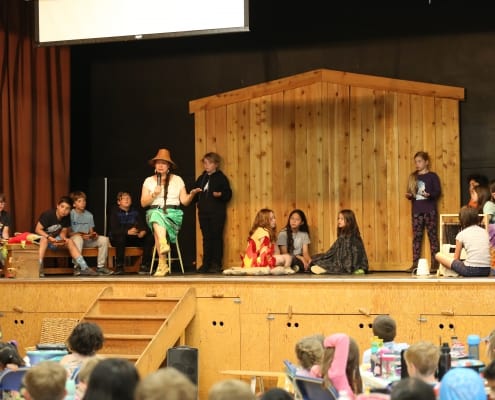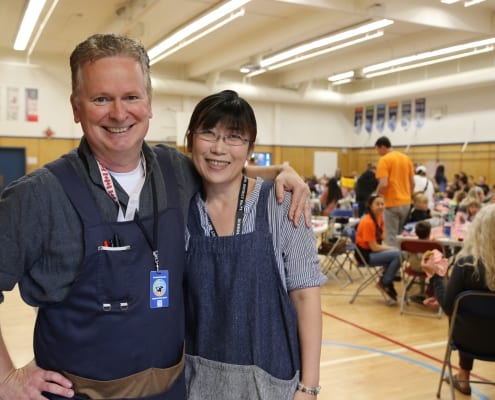 Hornby and Denman Community Schools gathered together at Hornby School to celebrate the day with a focus on Indigenous Games and land-based learning. They also prepared a special lunch of smoked salmon with Fir Tip garnish. GP Vanier held a student-led, indigenous-focused, school-wide assembly. This student group was led by the Vanier Indigenous Education committee, a group comprised of 10+ Vanier staff members and several students. Mark R. Isfeld Secondary also held a school-wide event featuring a tribute to Isfeld Ni'noxsla (Wise One) JoAnn Restoule.
These events and initiatives reflect Comox Valley Schools' commitment to reconciliation and Indigenous education. The district has made significant strides in incorporating Indigenous perspectives and teachings into their curriculum, fostering an environment of respect and understanding for Indigenous cultures and histories.  But we know there is much more work to do moving forward.
https://www.comoxvalleyschools.ca/wp-content/uploads/2023/06/339A6473-scaled.jpg
1707
2560
csorochan
/wp-content/uploads/2020/05/SD71_logo_2-300x209.png
csorochan
2023-06-27 08:43:20
2023-06-27 08:43:20
Schools celebrate National Indigenous Peoples Day with a week of activities