Royston and Courtenay Elementary Boundary Changes
At a special meeting the Board for Comox Valley Schools voted unanimously on adjusting the boundary for Royston and Courtenay elementary schools, so there is enough space for students in the south end of the district.
The boundary adjustment shifts the Courtenay Elementary catchment boundary further south (include parts of Fraser road, Comox Logging Road, South Island Highway and Ridge development).
The Board also passed a motion requesting the superintendent prepare a transition plan for students impacted by the boundary shift and for Courtenay Elementary School to welcome incoming families to the school.
Comox Valley Schools board and staff have spent hundreds of hours analyzing enrolments and information, engaging with the public, and responding to questions.  Thank you for the many constructive comments and questions.  All FAQs and feedback/comments were provided to the Board for their consideration.  The questions and comments section below is now closed.
The Courtenay-Royston catchment boundary changes will occur for the beginning of next school year, in September 2022.
Video containing rationale and information about the review:
Our Frequently Asked Questions (FAQ) page can be found here.
Why this review?
Due to increasing enrolment and limited space, some of our schools are operating near or above capacity with no additional room or viable options to expand. Overall, there are enough seats in SD 71 to accommodate our students, but they are not evenly distributed. This means there is space at some schools while others are over capacity.
Comox Valley Schools held extensive consultations about school catchments and boundaries in 2019 through 2020. During the initial rounds of consultation sessions, over 350 people attended school meetings and 2,000 completed the online survey. This extensive report summarizing feedback and issues raised was prepared for the Board to consider in February 2020. The board looked at boundary/catchment solutions, but only shorter-term mitigations occurred, at that time.
Applications have been submitted for capital expansions at Royston and Cumberland schools. Since that time, enrolments have grown significantly and are projected to continue increasing. In June 2021 the Board of Education approved updates to the 10-year Long Range Facilities Plan.
We are already over capacity at Royston Elementary and a shift in the boundary could assist in alleviating these pressures. We can't defer decisions further into the future, a longer-term solution must be implemented.
What are the current challenges at Royston Elementary?
Royston Elementary School is currently one year ahead of projected growth with 310 students.  The school's operating capacity is 205. With the addition of four modular classrooms the capacity has increased to 305. The sewage system has a maximum capacity of 320 people. School infrastructure space is very limited (office, gym, hallways, washrooms). This leaves no room for any possible future growth in the southern part of the district.
All recommendations regarding Royston Elementary from the February 2020 report have been implemented and there are no further options available to expand capacity without addressing septic capacity. The lifespan of the septic system is not nearing replacement, and this is not a cost-effective solution.
At the December 14th board meeting, trustees passed a motion to explore a possible boundary adjustment that shifts the Courtenay Elementary catchment boundary further south (including parts of Fraser Road, Comox Logging Road, South Island Highway and Ridge development).
This change would mean some residents within the Royston Elementary School catchment area would change to be within the catchment area for Courtenay Elementary School. This catchment boundary shift would impact approximately 40 students from 15 families at this point in time.
This is a longer-term solution that will lead to more balanced enrollments amongst district elementary schools and would require the addition of a bus route.
Current Catchments Boundary Map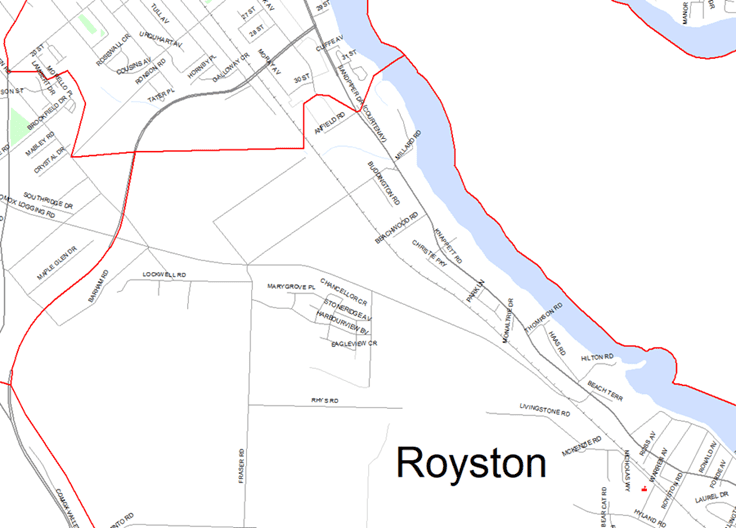 Revised Catchment Boundary Map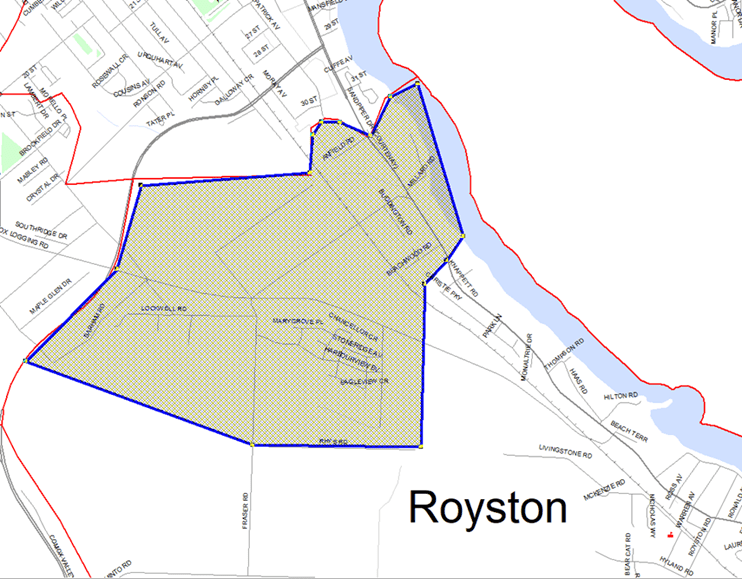 *the section in blue would move from the Royston Elementary catchment to Courtenay Elementary catchment.
Our Frequently Asked Questions (FAQ) page can be found here.